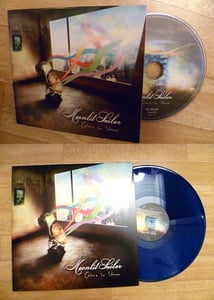 €

10.00
Moonlit Sailor - Colors In Stereo (CD or VINYL) Deep Elm Records 2011 DER - 531
DIGIPACK CD RECORD OR VINYL LP RECORD
LP VINYL RECORD INCLUDING MP3 DOWNLOAD CODE
Third album entitled Colors In Stereo from the young Swedish indie post-rock band Moonlit Sailor. Released June 06, 2011 on Deep Elm Records.
CD & VINYL RELEASE SEPTEMBER 01, 2011
Recording Time: 42 min 06 sec
Tracklist
Side 1:
01. Kodac Moment
02. Colors In Stereo
03. May Day
04. Summer Solstice
05. Freeze Frame Vision
06. Vacant Library
07. Singularity
08. Weekday Escape
09. Clarity
10. Berwick Upon Tweed
"To sum it up succinctly, Colors In Stereo is huge. It's like the thunderous boom of 1,000 armies marching in lockstep. Already receiving well-deserved critical acclaim for creating an entirely new dimension to the post-rock genre, these four Swedes have done it yet again with a truly unique album. Firmly entrenched in their quasi-pop / post-rock roots but adding space-rock elements to their already massive soundscapes, MOONLIT SAILOR has created a blueprint for the future of post-rock. Everything on Colors In Stereo is special: from the sounds you've never heard before, to the arpeggios that swallow you whole, to the powerful crescendos that devastate your senses. If you don't find it difficult to listen without being overwhelmed with emotion, you're not listening. "This album means a lot. When we wrote these songs, we knew that people were going to hear them and we didn't want to disappoint anyone, especially ourselves. It feels like we've taken big steps forward as composers and we hope people hear that in the songs. Everything about who we are we put into the music of Colors in Stereo. As for the title, it reminds us of the future...very positive and joyful. You can really feel the colors float through your inner mind and leave you purified. We wanted to make an positive post rock album" says says bass guitarist Markus Rundlšf. This is the new standard. It's that good."
- Deep Elm Records
If you dont want to pay with credit card, send us an e-mail at:
info@moonlitsailor.com, and we'll work it out.